Continuing on the theme of bee art, here's an artist that creates art using a childhood favorite - The crayon. Only Christian Faur doesn't use them as his medium in the traditional way. Instead of drawing with them, he creates pixel art by stacking them! In his words:
For this body of work I have assembled more than one hundred thousand hand cast crayons of varying colors and shades to produce a body of work that, to the best of my knowledge, is unlike anything done before in art. These individual "pixels" of wax are precisely stacked into specific locations inside of wooden frames to produce a new art form that uniquely balances the qualities of both photography and sculpture. Further, I have developed a mapping system that translates the English alphabet into twenty six discrete colors and I use these crayon "fonts" to add words and language to each of the pieces in the show.

The product is a series of photorealistic landscapes and figurative images that are formed at the surface of the thousands of tightly packed crayon tips. The imagery that makes up this new body tends to focus on isolated elements represented as children, barns, water towers, etc. withinin determinate landscapes, which are intended to reference the individual crayon whose solitary existence, like that of the individual element, is rendered obsolete in the amalgamate. The direct representation of language in each piece further imbues the works with meaning and brings an aspect of color into each composition reminiscent of DNA coding. The alphabetic key at the lower left of each panel allows the viewer to interpret the individual words written throughout the various panels.
Going back to bees, here's his bee masterpiece: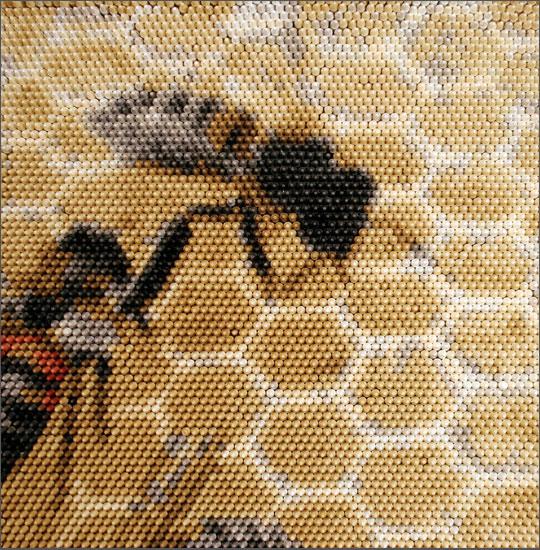 To see more of his amazing work, please see his website, here.